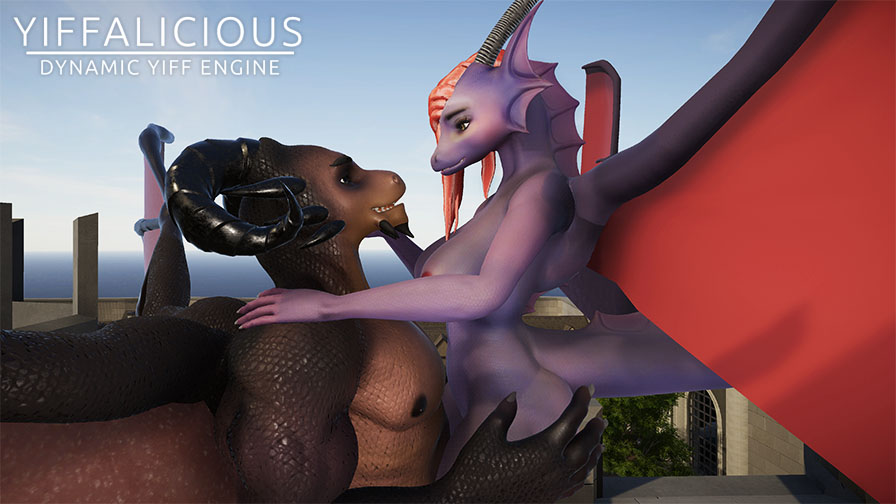 Yiffalicious is a dynamic yiff engine in 3D that's all about user freedom and interaction. By offering a fully fledged pose editor and utilizing advanced technologies such as procedural animation and real-time dynamic mesh morphing, we are aiming to create an unprecedented level of interactivity and detail.
So far everything in Yiffalicious has been made by individuals devoting their spare time while working full time jobs. By supporting us it's easier for us to stay motivated and achieve our vision. Pulling off a 3D game of this magnitude requires a lot. With enough supporters we might even make this our full time job. That would be a dream come true!
Q: No sound
A: There is almost no music anywhere in the game. The sound must be there. If it is not present, check the settings in the game and in Windows.
Q: Creating scenes
A: You must first create all the points that are created on the character, and then move them. There aren't many of them.
Purple, in turn, is responsible for the direction and inclination of something.
First put the passive, then the asset, then when you add the latter, the "attach to input" menu will appear.
Well, then create snapshots (snapshots), which are saved settings of emotions and movements of the characters. Transitions between snapshots-and you're done.
You can upload a ready-made scene and make it edit to understand what's what.
Q: How do I enable vertical sync? (If there is overheating and / or the game is running with a large number of FPS-we remove the extra load on the video)
A: The first item Menu-Graphics-VSync is more correct, but reduces performance. You can try replacing the second item with Target Framerate.
Q: How to turn on the normal fur.
A: The Menu - Graphics - Fur Shading item is responsible for the fur. Off-dyed leather, High Quality-fur appears, Extreme Quality-the amount of fur increases.
The minimum comment length is 50 characters. comments are moderated