How to play VR Porn Games
Virtual reality has injected vitality into the realm of adult gaming, transporting explicit content from mere screens to a realm where users are at the epicenter of their customized encounters. VR adult games usher players into virtual domains, enabling interactions with characters and situations, elevating immersion and engagement to new heights. These games span an array of genres and themes, catering to diverse preferences and fantasies.
If you haven't yet delved into the captivating array of VR adult games, you're truly missing out! The process of setting up and enjoying most of these games is uncomplicated and seamless. By adhering to this guide, you'll swiftly find yourself fully immersed in the realm of VR adult gaming.
Online (Browser) VR Porn Games
Online VR Porn Games are streamable games that don't require you to download anything. They're the easiest adult VR games to begin playing and don't require an expensive high-end headset.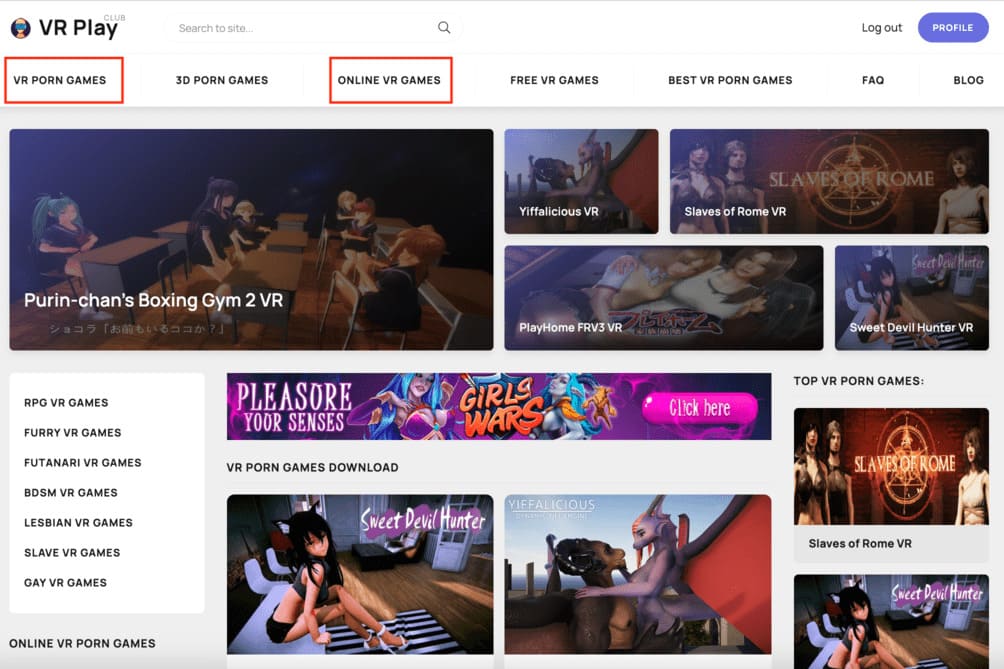 How to Play Online VR Porn Games
Put on your favorite headset.

Open your headset's browser / go to a category to 

Online VR Porn Games

.

Choose a game from the list, press GO TO PLAY ... 
Press Stream Game and enjoy!
PC VR Porn Games
PC-based VR porn games offer some of the highest quality experiences but require a PC-compatible headset and a PC powerful enough to handle the often demanding games. VR Porn Games category of VR porn games for PC require users to download and install the games. Installing on a separate storage drive or external drive is recommended; some games even require it. Don't worry, Quest 2 users! Quest 2 can be connected to a PC into a PC and used just the same. Check out our guide on How to Play PC VR Porn Games with Meta Quest 2 for more information.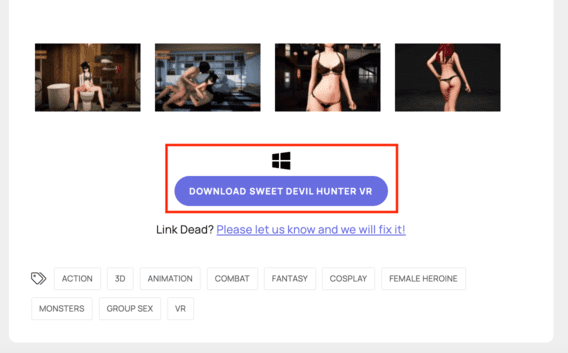 How to play PC VR Porn Games
On your PC, open to VR-Play.club
Open the

VR Porn Games

- tag 

PCVR

Choose a game from the excellent collection and click Download.

Locate your downloaded file, open and install the game onto your preferred drive.

Using your VR headset, open your PC desktop and navigate to your chosen install location.

Launch the installed game via your headset and enjoy!
PC VR Game Tips
VR Games with high demands like Virt-A-Mate necessitate a robust PC to ensure optimal performance. Prior to downloading, it's advisable to review the game's prerequisites by expanding the "System" and "Additional information" sections on the VR-Play.club page, ensuring compatibility with your PC setup.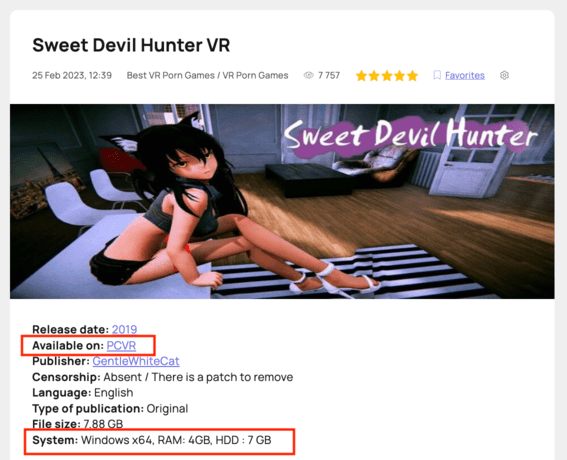 Typically, downloaded installation files will be in the .zip format. Ensure you possess appropriate software to extract the downloaded package. It's also beneficial to peruse a games "readme.txt" file, if provided, often containing crucial installation directions and access keys for unlocking premium features, if applicable. Adhering to the game's installation guidelines is key for an exceptional experience.
The majority of games accessible on VR-Play.club are initially launched for PC. Employing applications like Virtual Desktop can aid in locating and launching a game's .exe file from within VR. Alternatively, if your headset offers a desktop view, that can also serve the purpose.
The instructions provided earlier will assist you in quickly setting up and enjoying VR games for adults. Should you require further assistance, refer to the troubleshooting FAQ section below or leave a comment for personalized guidance. Additionally, consider becoming a premium member of VR-Play.club to fully experience the wide range of captivating adult VR games available.
---
FAQ:
Q: My game won't launch.
A: Refer to the general troubleshooting guide below.
Q: Where do I find games?
A: On the Games page at VR-Play.club. Hit the link in the main menu bar to get there.
Q: Will this work on my Smartphone / Quest / Windows MR device etc?
A: Check each game's description for information on compatibility and hardware requirements.
Q: How do I play a PCVR game with my Quest device?
A: Use AirLink or a USB Link cable to connect your Quest device. If unsure how to do this, follow this guide.
---
General Troubleshooting Guide:
Check system requirements.


Make sure your computer and VR headset meets the minimum requirements required for the game.

Restart your VR headset's software.


Sometimes a VR headset's software doesn't launch correctly, especially if you've played with your service settings.

Close unnecessary programs.


Closing unnecessary programs can clear up system resources and help prevent conflicting processes.

Run the game as Administrator.


Simply right click on the game and select 'Run as Administrator.' Some system permissions can interfere with the functionality of some games.

Enable Game Mode.


Game Mode should be enabled by default but can cause problems if turned off.

Restart your computer and VR headset.


Sometimes games may not work correctly if your computer is pending a restart.

Update your graphics card drivers.


AMD Drivers.




Nvidia Drivers.

Install the latest DirectX End-User Runtime.


DirectX is a crucial requirement for most games. Make sure you have the latest version installed.

Install the Visual C++ Redistributable Runtimes All-in-One Pack.


This is another crucial requirement for many games and applications.

Redownload and reinstall the game.


It's possible that your download or installation became corrupted. This can easily prevent your game from working as intended.

Disable any 'overclocking.
If you're an advanced user with overclocks applied to your system, try disabling them.