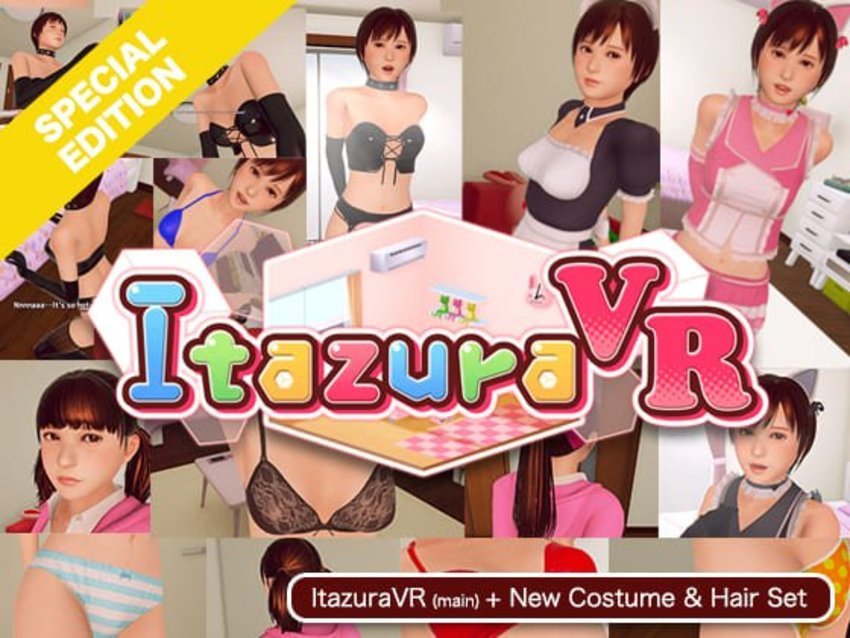 Release date: 2018
Platform: PC/Windows
Censorship: Absent/There is a patch to remove
Language: English
Type of publication: Original
File size: 1.74 GB
System: CPU Intel i5-4590 RAM 8GB Video NVIDIA GeForce GTX 970 or AMD Radeon R9 290 DirectX 11 HDD 2GB
The new horizon seen through the lens of Virtual Reality.
You see the heroine as if she actually is.
She responds to your movements thanks to
a new device which is capable of communication.
Story
The cousin you used to play together suddenly came back and started to live next door.
She has grown into a fine, young woman. She is alone, so you are asked to look after her...
"ItazuraVR"
"ItazuraVR DLC Bondage Costume"
"Itazura VR DLC 3 - Bath with Rui"
"ItazuraVR DLC 5 Costumes,Color variations and 3 Hairstyle".
DLC Contents:
[Costume]
- Bondage Costume
- Vacation Swimwear
- Maid Costume
- Bikini (cobalt)
- Bikini (green polka dot)
- Bikini (yellow polka dot)
- Bikini (pink polka dot)
- Bikini (blue polka dot)
- Bikini (black)
- Bikini (red)
- Bikini (white)
- Bikini (yellow-green polka dot)
- Bikini (purple polka dot)
- Bikini (red polka dot)
- Cat-eared Maid (4 colors)
[Lingerie]
- Frilled
- String
- Stripe
- Pink
- Sky Blue
- Lime Green
- Yellow
- Orange
- Purple
- Red
- Black
- White
- Moca
- Two-tone
[Hairstyle] * 4 colors for each
- Ponytail (short)
- Ponytail (long)
- Twintail
The minimum comment length is 50 characters. comments are moderated