Itazura VR - Adult VR Games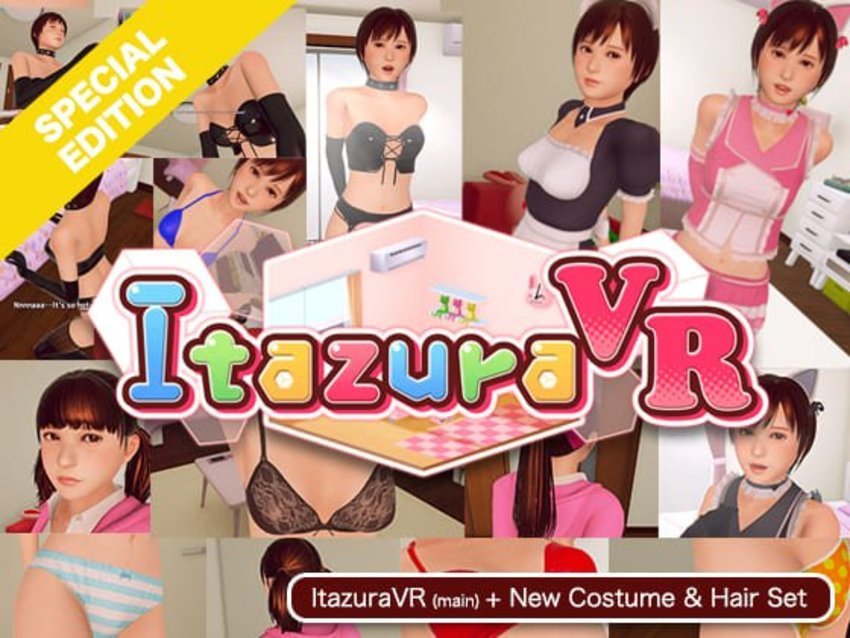 The new horizon seen through the lens of Virtual Reality.
You see the heroine as if she actually is.
She responds to your movements thanks to
a new device which is capable of communication.

Story
The cousin you used to play together suddenly came back and started to live next door.
She has grown into a fine, young woman. She is alone, so you are asked to look after her...
"ItazuraVR"
"ItazuraVR DLC Bondage Costume"
"Itazura VR DLC 3 - Bath with Rui"
"ItazuraVR DLC 5 Costumes,Color variations and 3 Hairstyle".
DLC Contents:
[Costume]
- Bondage Costume
- Vacation Swimwear
- Maid Costume
- Bikini (cobalt)
- Bikini (green polka dot)
- Bikini (yellow polka dot)
- Bikini (pink polka dot)
- Bikini (blue polka dot)
- Bikini (black)
- Bikini (red)
- Bikini (white)
- Bikini (yellow-green polka dot)
- Bikini (purple polka dot)
- Bikini (red polka dot)
- Cat-eared Maid (4 colors)
[Lingerie]
- Frilled
- String
- Stripe
- Pink
- Sky Blue
- Lime Green
- Yellow
- Orange
- Purple
- Red
- Black
- White
- Moca
- Two-tone
[Hairstyle] * 4 colors for each
- Ponytail (short)
- Ponytail (long)
- Twintail