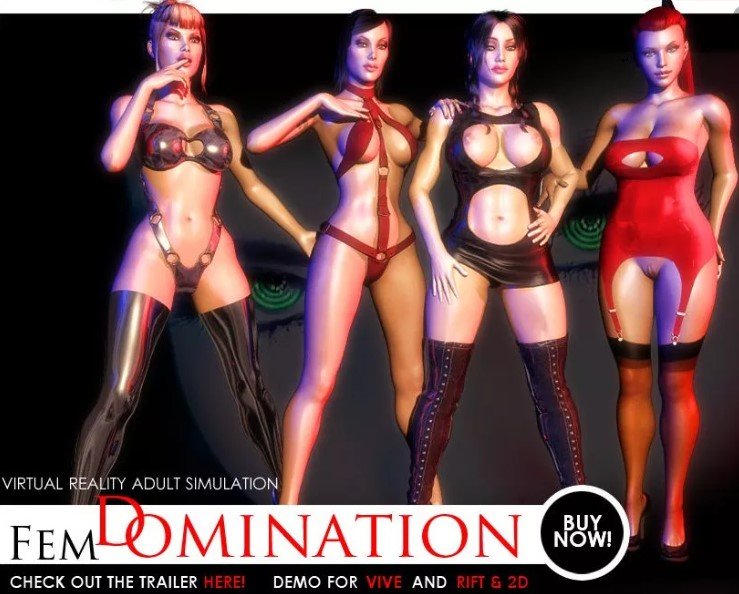 Release date: 2016
Platform: PC/Windows
Censorship: Absent/There is a patch to remove
Language: English
Type of publication: Original
File size: 3.63 GB
System: OS: Windows 7 or better CPU Intel i5-4590 RAM 8GB Video NVIDIA GeForce GTX 970 or AMD Radeon R9 290 DirectX 11 HDD 4GB
After a long drive you've lost your way.
The night has fallen and you arrive to a strange temple in the middle of nowhere.
You can't resist, you need to go inside to explore this strange place.
Once entered, there is no way back...
Orientation session has two built in hypnotic films; one from StasyQ and another by Citor3.
Both will make you an obedient slave for the Mistresses who you will serve from now on.
We added also a feature so you can add your own films.
We advice you to play this scene sitting down when using a VR headset
- The Chair:
The Chair will make you relaxed as the Mistress slowly talks you into trance.
Once she's ready, she will take what she wants and there is no way for you to resist.
We advice you to play this scene sitting down when using a VR headset
- The Slave:
In the Slave you find yourself tied to floor with ropes.
The mistress will use you for her own pleasure until the point of no return.
We advice you to play this scene laying down when using a VR headset
- The Dungeon:
Finally in the Dungeon you are properly abused by two mistresses with kinky toys.
You are tied to chair and hanging in the air by chains while they check how much you can take.
- Experience Mode:
Experience mode is the narrative mode for scenes.
You will be taken on an erotic journey where the Dominatrixes control the action.
The Dominatrixes will tease you and talk dirty to you and do naughty things to you as you immerse yourself in an Erotic VR experience.
- Arousal Mode:
In arousal mode you indicate an increase in your level of arousal with a tap on the gamepad or Vive trackpad.
At each level the Domina will respond by 'noticing' your increase in arousal and tease and stimulate you to bring you to the next.
She will 'notice' you are hard and tease you about how easy you were to seduce.
When you become more arousal she will notice and step things up.
When you are nearly cumming she will 'notice' your panting and flushed face and dirty talk you over the edge knowing you can't hold out.
- Developer Mode:
Developer mode allows you to cycle through the animations in a scene using the gamepad or Vive controller.
While we have included this mode for those that may want it we strongly suggest using the experience and arousal modes.
The Experience and Arousal modes blend animation, voice-overs and story to create an erotic experience that is more immersive and erotic than simply selecting an animation loop.
The minimum comment length is 50 characters. comments are moderated