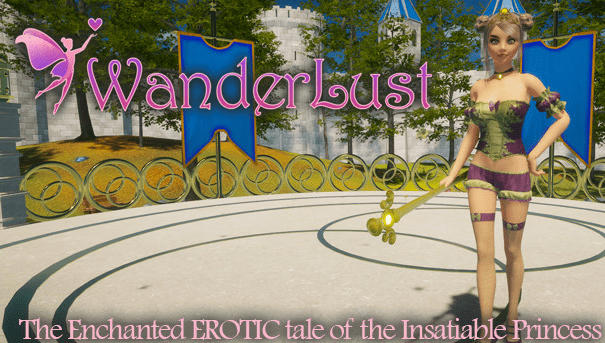 Join Princess Elise and her friends as they explore their enchanted world in search of Magical SEXUAL Adventure. Encounter Fairies, Wizards, Giants and much more as you make your way from one Amazing Sexual Experience to another.
In WanderLust you play through the Erotic Adventures of Princess Elise, a beautiful princess with an Insatiable Sexual Appetite. When her wicked stepmother, the Queen creates a cruel law against Sex, the fair princess sets out to violate the Queen's law (over and over and over again), and have the Greatest Sexual Adventure her world has ever known.
Using simple Turn-Based RPG elements, you control Elise as she explores her kingdom, fights off dangerous creatures, learns magical abilities, and seeks out fantastic sexual experiences wherever they are to be found.
On her adventure, the lusty princess teams up with a wise Forest Nymph and a Perky Mermaid, who join her on her quest for sexual pleasure and excitement. Together, the three fight their way to the farthest reaches of the kingdom, enjoying numerous sexual encounters along the way, with the magical inhabitants of the land, and with each other.
The minimum comment length is 50 characters. comments are moderated